THROWBACK THURSDAY • 1924 • 2018 Explosions
Posted May 10, 2018.
Halemaumau crater exploded early yesterday morning (May 9) after rocks fell into the ever deepening lava lake. The explosion produced a huge cloud that floated thousands of feet into the air. Hawaii Volcano Observatory (HVO) scientists are alerting the public to expect a larger explosion at the Kilauea summit, similar to one that happened in 1924. The Hawaii Volcanoes National Park will close indefinitely starting tomorrow (Friday), May 11 to protect the public from large falling rocks should a bigger explosion happen.
From the HVO bulletin of May 9, 2018:
Volcanic Activity Summary: The steady lowering of the lava lake in "Overlook crater" within Halemaʻumaʻu at the summit of Kīlauea Volcano has raised the potential for explosive eruptions in the coming weeks. If the lava column drops to the level of groundwater beneath Kīlauea Caldera, influx of water into the conduit could cause steam-driven explosions. Debris expelled during such explosions could impact the area surrounding Halemaʻumaʻu and the Kīlauea summit. At this time, we cannot say with certainty that explosive activity will occur, how large the explosions could be, or how long such explosive activity could continue.
Residents of the Kīlauea summit area should learn about the hazards of ashfall, stay informed of the status of the volcano and area closures, and review family and business emergency plans.
Resource on volcanic ash hazards: https://volcanoes.usgs.gov/volcanic_ash/
Read the full summary: HVO-USGS5-9-2018
UPDATE: USGS East Rift Zone Community Meeting –  Want to know more about the possibility of a Kilauea volcano explosion and ash fallout? Watch this informative video of last night's (May 9) public  meeting.
UPDATE: Disaster Brewing at the Kilauea Summit? – Honolulu Star Advertiser article. 5-10-2018
Meanwhile the East Rift Zone eruption continues at various fronts near the Leilani Estates subdivision and the Puna Geothermal Ventures power plant. As of this posting, 15 fissures have opened in the Leilani Estates area spewing more lava that has destroyed at least 36 structures, 27 of them homes. Many residents had to be evacuated with some already losing their homes, while others wait in anxiety wondering if their homes will be spared.
VIDEO: Ikaika Marzo SO2 killing trees | Opihikau – downslope from Leilani Estates eruption.
Visit our Hawaii Volcano Videos and links page for the latest updates.
The following photos are from the May 9, 1924 Kilauea explosion.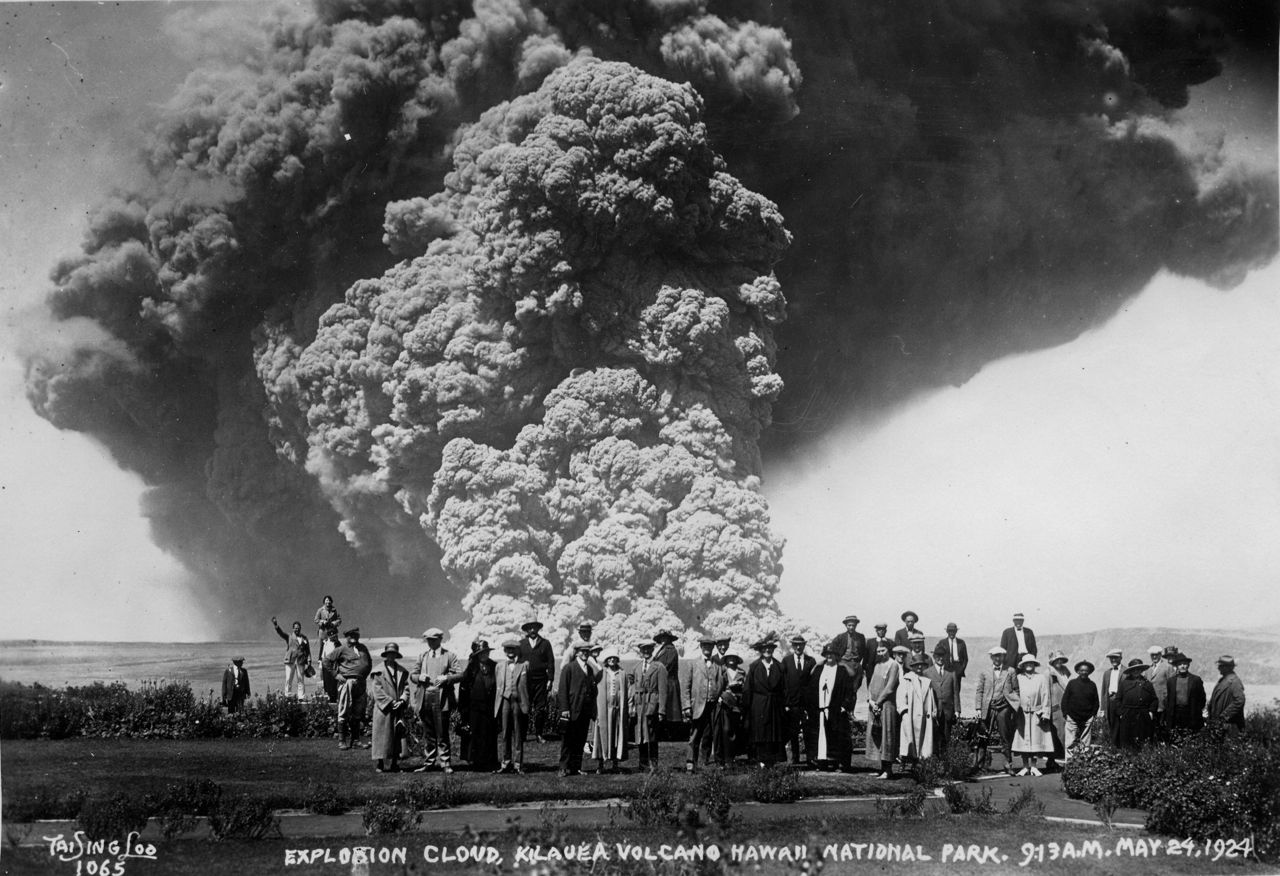 More information and photos below the fold.
Continue reading "BOOM! Halemaumau Explodes"
Please follow and like us: