Photo of the Day – Foodland Teri Chicken Bento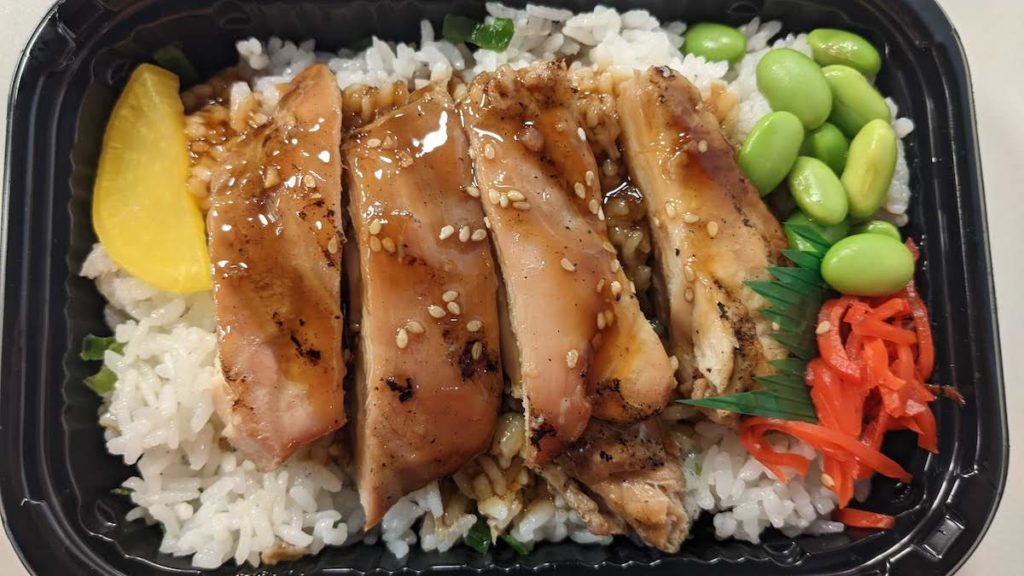 Photo of the Day – August 2, 2022.
The Foodland Farms supermarket at Ala Moana Center in Honolulu is well known for its many fresh deli offerings. Their line-up of bentos are great and reasonably priced even in this time of high inflation.
The BBQ Chicken Teri bento is one of my favorites among several offered for consumption as early as the breakfast hour. This bento features teri glazed chicken sitting on a layer of white rice and spiced up with "daikon", "edamame" beans and a smattering of red ginger. And like most bento plates, it also features the decorative but totally useless and un-edible green plastic trim. I guess that is there to make the bento look more healthy? You tell me.
Other bentos offered include several seafood choices such as salmon, "saba" fish, butterfish and fish katsu. They also have fried chicken and teri beef bentos which I never eat. The Foodland Farms deli section also carries a number of breakfast bowls, ready-made salads and family sized meals for take-out.
If you are a Foodland Maka'i Card member you can enroll in Foodland's Meal Club program. Through it you can get a free bento or other deli item after purchasing six items, which are tracked with a good old fashioned, paper based honor card.
Once you purchase something you can take it out, or eat them at the Foodland Farms' dining area which re-opened this year after a long period of closure due to the COVID-19 pandemic.
Today's photo was taken using my Google Pixel 4a smartphone.