News from Around the Dial
As originally posted to Hawaii Radio & Television Guide*
The economic downturn has hit KGMB TV. Erika Engle at StarBulletin.com reports that 9 employees at the TV station were laid off. None of the on-air talent were laid off. Advertising revenue at media outlets are down this year. Details at this link.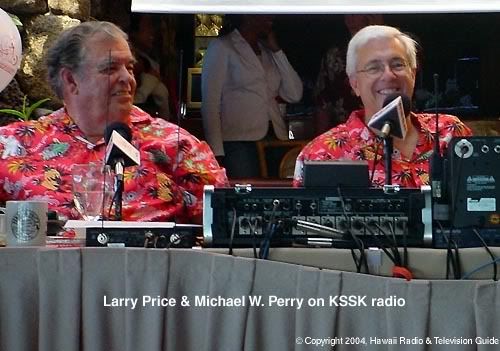 KSSK radio's morning duo of Michael W. Perry and Larry Price celebrated their 25th year on-air this past Saturday (August 9) during a live radio broadcast aired from the Hilton Hawaiian Village Coral ballroom. More than a thousand people showed up for the breakfast broadcast. The duo was on air for 3 1/2 hours and were honored by dignitaries including Governor Linda Lingle, Mayor Mufi Hannemann and Congressman Neil Abercrombie.
More on Perry & Price's 25th anniversary:
The Big Island's KIPA radio station has returned to the airwaves with new call letters and a new format. The station now goes by the call sign KHNU. AM 620 was silent for about a year and is now airing a news and talk format. The station is owned by Mahalo Broadcasting LLC in Arizona. The KIPA call sign was immediately acquired by Buddy Gordon at Parrot Broadcasting for use on a new FM under construction in Kona, also on the Big Island of Hawaii. More details at this link.
"Honolulu Skylark" Jacqueline Leilani Rossetti has joined Kimo Kahoano as a new co-host for the Hawaiian Talk Radio Show produced by the Office of Hawaiian Affairs (OHA) called Nā 'Ōiwi 'Ōlino. The morning show airs Monday through Friday on Cox Radio's KKNE AM 940 and statewide to various stations on the Big Island, Maui and Kauai. "Skylark" is a longtime radio personality who has been on various stations since the 1970s. More details at this link.
Local computer and internet enthusiasts get their own radio show via Burt Lum's and Ryan Ozawa's newly launched Bytemarks Cafe radio talk show airing on KIPO 89.3 FM (HPR). It is a weekly "one-hour radio magazine that showcases the innovation and creativity in Hawaii's tech community." More details at the Hawaii Public Radio website and Bytemarks Cafe blog page.

* I am the publisher of the Hawaii Radio & Television Guide.