Let the Holiday Madness Begin
Ladies and gentlemen, boys, girls, Moms and Dads… the Christmas rush is officially on. Today, November 29 is Black Friday. Stores everywhere are hoping to set extraordinary holiday sales this season for the next 25 days.  Shoppers were up early this morning at Ala Moana Center in Honolulu, Hawaii, some lining up for bargains while others mostly just walked around.
I mostly walked around and took a few photos. Morning shoppers were lucky enough to catch free music entertainment at the shopping center's main stage just before the Makai Food Court area. People were at Centerstage were standing in a long line waiting to get into the new Manaola Hawaii specialty boutique. People must be crazy about their fashions and accessories to wait in a long line for whatever bargains they may have.
The store is a new retailer at Ala Moana Center.
Me… I am practical. I just walked around, skipped the frenzied sales, stopped by Target for a few minutes and bought a box of granola bars for $2.57. That's it. Black Friday is done for me.
Enjoy some of the images below. Hopefully I will be able to take more Christmas themed pictures in the next few days and weeks ahead. Aloha!
The Big Ala Moana Center Santa stands at the Makai entryway facing Ala Moana Boulevard.
Best early morning bargain of the day:  Free Hawaiian music at Ala Moana Centerstage.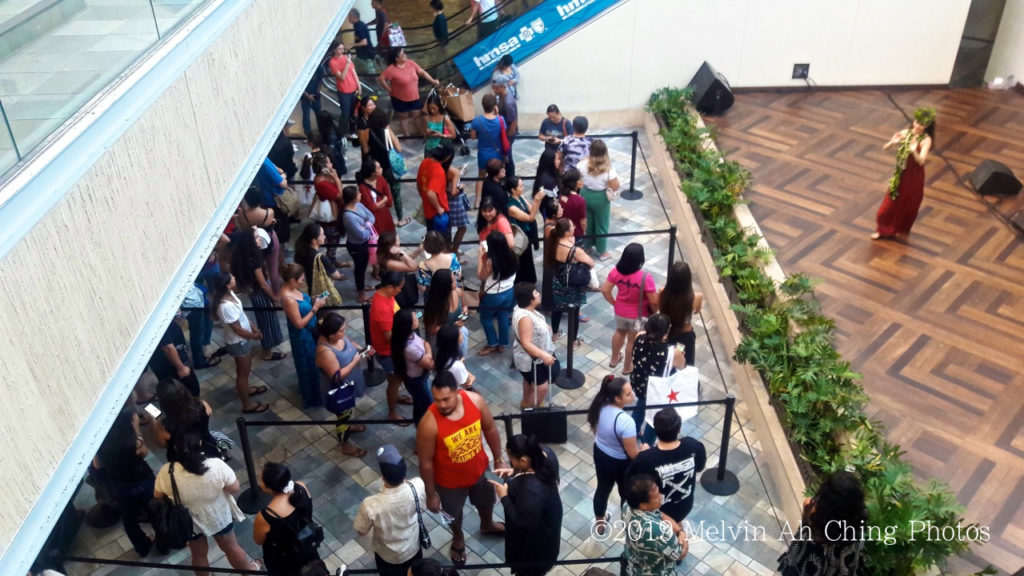 Some of the people waiting in line to get into the Manaola Hawaii specialty boutique.
Poinsettia flowers at Ala Moana Center.
Return to this blog to see more Hawaii and Christmas images this season.
Some of the Ch